Wendy Mitchell on living with dementia and why her cat kept getting fatter
Billy the cat was on a diet but he kept getting fatter and no one knew why. "Even the vet commented on it," revealed Wendy Mitchell, who is living with dementia.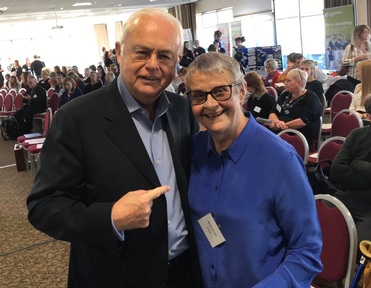 Wendy Mitchell and Sir Martyn Lewis at the BRACE conference
Wendy, who is 62, was diagnosed with early onset dementia in 2014. Earlier this year, her book, Somebody I used to Know, became a Sunday Times best seller and Radio 4's book of the week. Her account of being diagnosed with dementia and how she has coped with it has inspired many.
She spoke at the recent BRACE conference #Together4Dementia in Bristol and read her favourite extract from her book about her daughter's cat Billy who kept getting fatter and fatter.
'Billy pads into the kitchen performing a tiny dance in front of my feet before he finds the patch of sunshine on the kitchen tiles. He flops down on it while I scratch the back of his ears while he purrs his approval. I shake some biscuits into his bowl and he gets up and crunches on them noisily. He's only allowed a few as Gemma has put him on a diet. She's not sure why he's put on so much weight recently. Even the vet commented on it.
'I make myself a cup of tea and as the kettle boils, I feel Billy's tail curling around my legs . I glance at his empty bowl. 'Ah Billy, have I forgotten to feed you ?" He looks up with big, sad eyes, his purr audible over the boiling kettle that switches itself off, and I shake a few more biscuits into his bowl.'
Wendy goes to greet her daughter who has just come home from work. 'Gemma and I catch up on the day. Twenty minutes must pass by like that and then Billy jumps down from my lap and sniffs at his empty bowl and sits, staring at it. "Ah no, I must have forgotten. Gemma looks at him, unsure.
'"The vet said Billy has to lose weight; he must be getting fed somewhere else because his diet isn't working. You are only giving him a few biscuits when you're on Billy duty, aren't you mum?"'
'"Oh yes, I'm sure I do," as I shake more biscuits into his bowl.'
'I even see the positives in a bummer of a diagnosis'
Wendy's account is full of humour and she talks at the conference about being a "glass half full person" saying: "I am a positive person so I even see the positives in a bummer of a diagnosis".
Wendy used to work as a manager for the NHS at a hospital in Leeds and reveals "I used to be renowned for having a brilliant memory but it started letting me down badly. I came out of my office and I forgot where I was.
"I had so many different diagnoses at the beginning. They said it was stress or the menopause when I had already had the menopause. I knew it wasn't stress as I am not that type of person.
"After 18 months of different memory tests, there was a SPECT can which showed a slowness in my brain."
She is determined to reduce the stigma around the disease and encourage others to take part in clinical trials and research.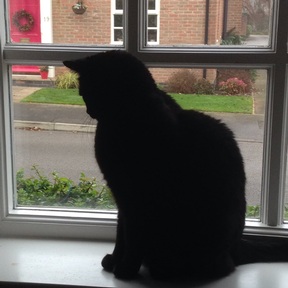 Billy the cat who kept getting fatter
"People think they have to talk to us differently," she says. She now has had dementia for four years and still lives independently at home, where she is determined to stay for as long as possible, saying: "Living in a care home with many other people and other voices would be very distressing for me. But at the same time I don't want my daughters to look after me as I want them to remain as my daughters."
She has come up with strategies for living at home and says: "There are advantages to living alone as if somebody moves things about, they don't exist for me any longer.
"At the moment I am coming up with solutions to enable me to stay living on my own at home. I have many adaptations which help me."
She says "talking is the most powerful thing you can do to allay people's fears when you have dementia. Talking is the most powerful thing I and my daughters can do."
Wendy has found peer support from other people living with dementia to be hugely beneficial, saying: "We share solutions all the time and we listen to each other. We are non-judgmental and we are all going through the same thing. If one of us forgets who the prime minister is, it really doesn't matter."
Wendy finds images speak more to her than words so in her blogs she uses a lot of photos. "Photographs make me happy. People never take photos of people in a bad mood. When I feel anxious I go into my memory room which is filled with photographs and I look at them.
"I do travel around the country a lot going to conferences on dementia but people see me and think it is easy for me.
"But I have a pink file that tells me where I am going and has details on everything. It also has a plan B as trains don't always go right. My Twitter friends are amazing and they will tell me what train to get if my train is cancelled." Wendy admits that: "When I walk out of here today I will forget the details but I will remember the emotions.
Losing memories is like losing precious possessions
"Every day I lose a memory. For me when I lose memories every day, it is like losing my precious possessions every day."
Wendy writes a blog Which Me Am I Today as she says: "It will hopefully convey the helplessness of those diagnosed with dementia, as there is no cure – the end is inevitable.
"However, I'm also hoping I can convey that, although we've been diagnosed, people like me still have a substantial contribution to make; we still have a sense of humour; we still have feelings. I'm hoping to show the reality of trying to cope on a day-to-day basis with the ever-changing environment that dementia throws at those diagnosed with the condition. Living as well as you can with dementia is all about adapting. Adapting to new ways to enable us to live better for longer with dementia.
"I can type as though dementia never entered my world as that part of my brain has not yet been affected, but that often works against me as people question my diagnosis. All I can say is, live a day in my shoes and I'm sure the reality will dawn.
"What I want is not sympathy. What I want is simply to raise awareness."
To read Wendy's blog click here
16-Nov-18 Article By: Sue Learner